Model:
SQ2118
E#246602
Product Description:
CADELL SQ2118 SQUARE TOP MOUNT SINK 20-5/8" X 17-3/4" 7-1/8"D
Specification:
20-5/8"x17-3/4"x7-1/8"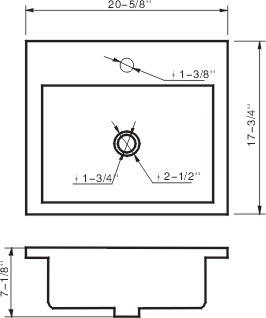 Detail Info:
This porcelain overmount sink is made from true vitreous China which is triple glazed and triple fired to ensure your sink is durable and strong.
An overmounted vanity sink is traditionally found in most bathrooms and can be used with any type of countertops.
The overall dimensions are 21" x 14" x 6 ½" and requires a 21" minimum cabinet size.
Pop-up drains in a variety of finishes are available with this sink model. As always, our porcelain sinks are covered under a limited lifetime warranty for as long as you own the sink.
Cadell Faucet LLC has a limited lifetime warranty for residential uses and 5 year limited warranty for commercial uses. Warranty covers any Calise product to the original consumer purchaser to be free from defect in material and workmanship so as long as the original consumer purchaser owns their home. If for any reason a faucet should leak or drip during normal use, Calise Faucet Company will replace the cartridge necessary to put the faucet in good working condition. Exchanges should be made on a consumer purchasing store basis. Consumer must not contact Cadell Faucet LLC directly. Rather this must be handled from the store, which it was purchased. The buyer (Calise Faucet Company's authorized dealer) should contact Cadell Faucet LLC and send it back in its original box with a copy of a receipt, invoice of shipping company. During the warranty period, Cadell Faucet LLC will credit back any shipping necessary to the buyer subsequent invoice. If the buyer has no subsequent invoice, a check will be mailed out within 30-60 days.
Damage upon installation or repair will waive Cadell Faucet LLC warranty. We encourages using a professional plumber for all installation and repairs. The above warranty does not cover damages resulting from improper maintenance, repair, cleaning, or installation, misuse, abuse alterations, accidents or Acts of God.
Proof of purchase (original sales receipt) must be provided to Calise Faucet LLC with all warranty claims. Cadell Faucet LLC is not responsible for labor charges, installation, or other incidental or consequential costs other than those noted above. In no event shall the liability of Cadell Faucet LLC exceed the purchase price of the faucet, valve or control. This warranty will also only cover any item properly installed in the United States of America, or Canada.